Where I live
I have just come in from watching the documentary series Coast. The current series is about Australia, and they just had an episode of my favorite part of the country.
Now I know it is normal to look at ones own country with pride we all do it. But I think somehow Australia is different an environment baked in the hot southern sun for a million years. Its an Island a Country and a Continent, that in itself is unique.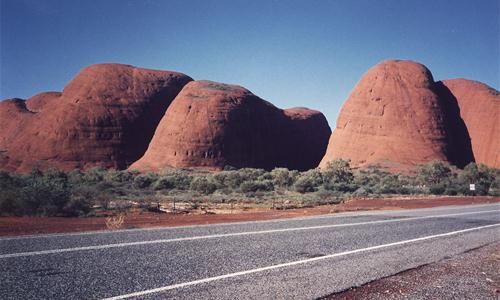 I am lucky I have seen great swathes of this country I have been to its dead heart, and to its western and eastern borders. I have seen the sky touch the horizon and so many stars it would take a life time to count them all. Its remote and increadibly beautiful, and at the same time modern and complex. Australia my home is an amazing place.
I have been into the heart of this country a few times now, and one thing that always strikes me is how timeless it all is. If I was to die out there even a monument to my passing would fade away before it was noticed. Its huge on a scale unlike any other place I have been. It changes me and everyone who dares enter her.
But its more than that. Australia is a spiritual place with 50,000 years of dreaming, even before we white people brought our civilization. Places like Lake Mungo prove that we were here long before pre history and we stayed here. In the end this is the oldest continent on earth, its rich in minerals, and raw materials, its no coincidence that the two largest mining companies on earth are both Australian.
Australia's southern coast is beautiful in its cold savagery, southern gales off the great southern ocean smash into the continent bringing icy cold winds and rain. The waters are cold but rich in sea life, I have an affinity for the southern part of this country. I was raised down there, I spent a lot of my life in and around the ocean, places like San Remo, Cowes, Phillip Island, Lakes Entrance, 90 mile beach are all milestones in my life, I have surfed those amazing cold waters, and found peace in the powerful beauty of those southern swells.
I now live in the north not 10 minutes walk from the ocean. The water here is warm all year, and the largest living thing is not 2 miles from the beach. I have dived the great barrier reef many times, its beauty is something to behold, and I think everyone at least once in their life should do it.
I love the warmth of the dry tropics, I do not miss the cold of the south, but I do miss the surf, there are no ocean swells behind the reef. To me the most beautiful place on earth is just 2 hours away. Mission Beach, an amazing quiet jewel right on the reef. The beaches are amazing the rainforest comes all the way to the beach, and the sunrises burn into the memory for a life time.
I love my country, I love the landscapes that make you feel like you don't matter, I love the east coast with its complex cities and lifestyles, but I often crave the open emptiness that is the center of this country. I have promised myself that I will go again, into the heart of darkness to discover the heart of light. To be made small, to understand why for 50,000 years the native inhabitants did not build towns a cities. But more importantly to sit under a tree and just listen, listen to the wind the insects and the natural world, one which even now we are moving father away from.
In the end I am happy not everyone gets to explore this place like I have. Why ? Because all those people would destroy it. Dumb people who think its ok to wash their hair in the only water supply for 300 miles, to those who think its ok to take a dump next to a dry stream bed, I have seen the worst in human behavior out there and now understand why so much of it is being blocked off to the public. Me I would like to do the last of the great stock routes before it is closed off, and the famous fink desert road which is more of a track than a road. I love my country, and one thing is for sure, I took my first breath hear and I want to be here to take my last, im and Aussie and god damned proud to be one.
Horse